Turkey seriously slows us sown: too many beautiful encounters, too much tea, too many detours, which we insert at the last minute and of course too many mountains. We have a great time, but realize that due to the coming winter, our travel plans through Kazakhstan and Uzbekistan will no longer be realistic. We would also like to be able to walk the Annapurna circuit in the Nepalese Himalayas, which is doable in November at the latest. We know that we will miss out on beautiful countries, but we don't want to rush on a travel plan that was made in back home in Oirschot.
When we leave the guesthouse in Eskipazar we both get a big hug from the super sweet hostess. Today we will cycle to Safranbolu, another tip from Samet. Pretty early in the afternoon we arrive in this tourist village. Even the Asians with selfie sticks are not lacking, in fact, they walk in large numbers and in large groups through the old center. The village lies in a gorge and has old wooden houses in traditional Ottoman style with white painted loam. Narrow streets run through. It takes a while before we can orient ourselves and walk around a couple of times the same route between the many shops and restaurants. Soon we decide to stay an extra night in the charming hotel in the old center. There is a bar with loud music (from Ramstein to Modern Talking) where you can drink a beer on the terrace. Pretty unique for Turkey. Not a very attractive business by the way, we are the only guests; the Turks, Arabs and Asians leave bar unvisited.
The next day we take a walk through the beautiful Tokatli Kanyuno. At the end of the gorge is a restaurant with a viewpoint with a glass terrace called Kristal Cam Teras. We enjoy the view from a waterfall and then go back the same route as we came.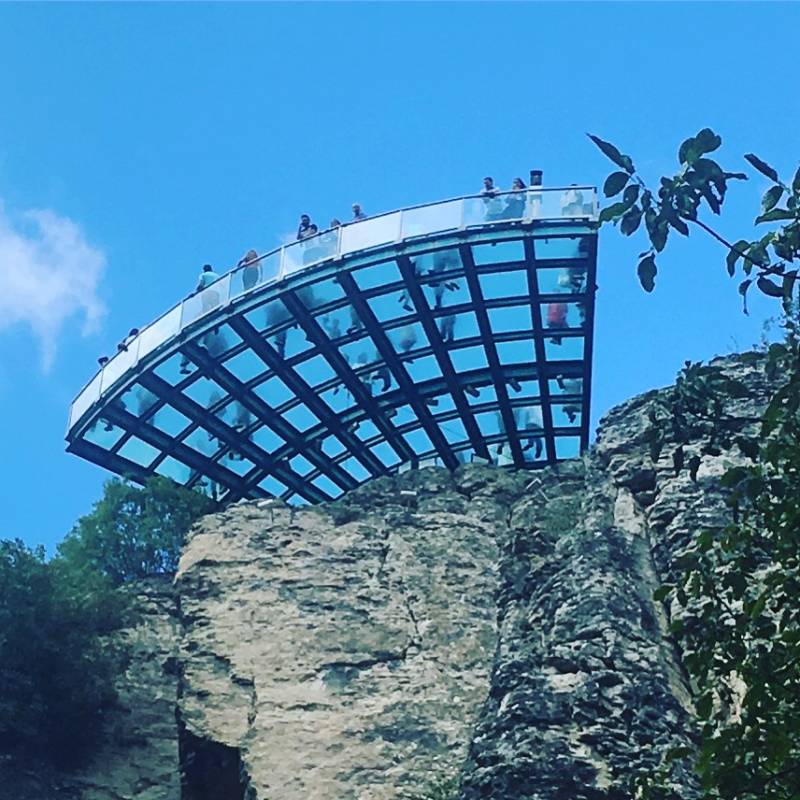 On the way back we meet Sari, who picks blackberries and speaks English. She is originally from Indonesia (Java) and has lived for 8 years with her Turkish husband in Safranbolu. She points us to a little flower where the town names its name: the saffron, and tells a lot about Turkey and Indonesia.
Back in the historic center of Safranbolu we eat a plate of mista, Turkish ravioli with ayran, a salty drinking yoghurt that is (often) foamed with soda water. At first (in Bursa) Harry drunk it with difficulty, but now he also finds it a delicious drink. Moreover, it seems to be healthy.
Later in the afternoon, after another walk through the village and a photo session at the big ❤️safranbolu letters, we go back to Jacks Bar where at the same volume Western music blares out of the speakers. Give us Turkish authentic music, at least in this country!
The next day the route continues on a very quiet and beautiful D road to Arac. On the way we buy a loaf of bread at a bakery, after which the baker brings us tea and grapes. He comes to sit with us with his tea. We communicate via the mobile phones and understand that his store was built 2 years ago and that his brother is now building a tearoom next to it.
Arac is a nice mountain village and it has a big hotel with few guests. For 110 lira (converted € 15) we get the key of a great room with balcony and we can have breakfast in the morning. Tripadvisor helps us to a restaurant where we order pide, Turkish pizza. We ask for an English speaking young lady at checkout if she knows if camping is allowed on top of the mountain in the Ilgaz Dagi National Park. Two men help with searching on smartphones, they make calls and it seems no problem. Good, that will be our intended goal for tomorrow. The alternative is to first cycle north to the city Kastamonu and from there again to the south a challenging stage to Tosya. Kastamonu is not exactly on the route to Osmancik where a package with contact lenses (hopefully) next week will be delivered to Warmshowers-host Ramazan.
We start early in the morning to arrive early at Ilgaz Dagi National Park at 1800 m altitude, to be able to gather wood for a campfire. In Arac the shops are still closed and we hope to be able to do the shopping in the village of Ihzangazi in order to cook in the evenings. After 21 km with sometimes steep climbs we reach the village and there are shops. As we cycle out of the village, however, we see dark clouds over our heads and we stop at a busstop to take shelter. A man stops and asks if we like a cup of tea. Behind the bus shelter is a still abandoned school. He is a teacher and manager there. Next week, the students have to start at this school. We take his invitation. Better to sit with a cup of tea at the school than in a small bus shelter. The manager is called Süleyman and appears to have a small hut on stilts on the campus of the school. Hordes of geese, ducks, chickens and turkeys are waddling around the cabin. The man lives in Kastamonu but he often stays in this place. After a few minutes we know why; despite the noise of the beasts around us, it is too spot to come all the way to yourself. Süleyman proudly tells about his profession, his university friends abroad and about the new kind of flower fly he has discovered in the National Park of Ilgaz Day. We promise to look forward to this special creature;)
After the tea, coffee follows and after the coffee he orders lunch at a restaurant in the village. Lunch is again pide with ayran. Tasty! The rain has stoped and on this meal we can handle getting back on the pedals. But the atmosphere is so nice that we accept a cup of tea and a second after that. It is already getting a bit late and we wonder if we will get up to Ilgaz Dagi Milli Parki today. The great ascent of > 1000 rise meters is still yet to come. On two occasions we are reconsidering whether to go to Kastamonu or still aim for the mountain. We choose the mountain twice. If we do not get up, we will find a camping spot along the way.
Ten kilometers under the summit it starts drizzling again. According to the altitude profile the heaviest part of the climb starts. Our legs really do not want to climb anymore and we search for a camping spot. We do not find it: so further upwards.
It is after sunset, it is cold and we are exhausted when we check in at a fancy mega hotel on top of the mountain. No camp. No campfire. Not today. For 320 Tl (converted € 45) we get a nice room with a hot shower, dinner and breakfast. Again, there are almost no guests here. We let ourselves be pampered after a day with eventually 1575 rise meters.
The next morning we wake up in a beautiful landscape. The sun is shining and it promises to be a beautiful day. We decide to cycle to the 'campsite' 3 kilometers away and take a walk. The campsite is not there anyway, we only see some remains of camp fires. That means wild camping! We push the bikes even further up a hill until we find a suitable spot to set up our tent over 1900 meters, in the shelter of pine trees against the cold wind. The clouds came back and are already hanging around us. No view and no walk. We also have some reservations about leaving the bikes unattended. But we will go camping. We will put a fire on and spend the afternoon (and evening) enjoying the fire.
The place is fantastic, nobody sees us (also no-one sees the smoke of the campfire because of the low clouds) and we are surrounded by the forest. In the night it clears up and a fantastic starry sky is visible. Under a completely cloudless sky we get up in the morning and the cold disappears.
After a great descent we turn on the D100 at Ilgaz. We get a strong head wind and have 50 km to go to the town of Tosya. This town is built against a rock wall. Tosya proves to be fun, it is pleasantly busy, clean and green: there is an elongated and neatly maintained park from the bottom of the valley to the top in the city center, a few kilometers uphill. In the park are many tea houses, picnic spots, playgrounds and memorial signs.
We check in at a cheap hotel in the center, buy a cold beer around the corner and eat on the across the street. When we want to order, we get a shortened version of the menu in English and the question (via Google translate) if we want to see the food. 'Yes, of course'. We choose a number of dishes, as we have seen Haluk choose in Bolu, and once again celebrate the Turkish cuisine.
From Tosya we cycle the next day towards the east to Osmancik, about 85 km away. For the first part of the route we can take a quiet older road, which goes through countless rice fields and farming villages against the mountainside. The farmers are busy doing the harvest. Tractors drive on and off, threshing machines are on the fields. On every part of flat terrain, the rice is spread to dry to lose the membranes. The road follows the winding river that makes all rice cultivation possible as a lifeline. From the fields and villages there is a lot of waving to us and many merhaba and hos geldiniz: hello and welcome!
After a kilometer or 35 we get back on the D100, which lies higher on the opposite mountain side and we have to climb steeply on this road. The landscape becomes drier and rocks stand like sculptures on either side of the road as we approach Osmancik.
At 25 km from Osmancik we buy an ice cream at a large roadside restaurant. Harry gets a whattsapp from the Warmshowers host Ramazan: "You're eating icecream!". We look around us to see if Ramazan is there; perhaps he came to meet us cycling? However, we had already read that Ramazan knows (almost) everyone (and vice versa). It turns out that the owner is a friend of Ramazan and that he has called him (probably that there are 2 weird Europeans with a bike sitting on his terrace). After the ice cream the owner offers tea and roasted and sweetened nuts and we continue pedaling to Osmancik.
In Osmancik we cycle on a historical bridge over the river. At the foot of the bridge a large, high rock rises up and is topped with a castle from the Ottoman period. Of course, a high mast with a large Turkish flag is not missing (as in every city).
The location in the Warmshowers app does not seem to correspond with Ramazan's address. When we stop and look around us, someone comes out of an office and asks: "Ramazan?". "Evet (Yes)!", we reply. He gestures that we have to cycle a hundred meters and that it is on the right side of the street. In these hundred meters we get to know from various sides with gestures that we are on the right track. Funny: non-Turks on a bike; they have to search for Ramazan, whom is known by everyone.
When we arrive at Ramazans store in building materials, he turns out not to be present himself. His employees welcome us with - of course - tea. The neighbor gives us an apple and when Ramazan arrives, fresh cookies and more tea are coming in by friends.
He jumps on his scooter and we cycle after him to his apartment. We take a shower while he goes back to his shop. At 8 o'clock he returns and takes us to his mother for diner. He has already hosted about 60 guests through Warmshowers and Couchsurfing and almost all of them had diner at his moms. We do too: we get a spicy soup with nuts, chickpeas with stewed beef, eggplant with feta and watermelon after. Mom is a top chef!
Ramazan immediately jumps up after dinner. A friend is waiting downstairs and drives us to a hotel on the outskirts of the city with a rooftop terrace. The hotel is from (again) a friend of Ramazan. We drink a ditch tea with a view of the rock where the illuminated castle stands and the flag flies and then walk to his house to go to sleep.
At half past eight in the morning we are back at his shop and Ramazan pours tea in a traditional Turkish way. For breakfast, pides with eggs are extracted. A big breakfast and a good base for a long stage to Havza. Unfortunately, the post package with the contact lenses has not arrived yet. Ramazan will send the package to an address on the Black Sea coast when it arrives.
After climbing 25 kilometers steadily, we stop for a break and Harry sees something on his tire. He tugs a thorn from his tire and listens for air escaping. Fortunately, that's not the case. When we want to jump back on the bike, it turns out that the tire is definitely flat. Our 6th flat in almost 5.000 km.
In the city of Merzifon we are tempted to shorten the route a little and maybe find a hotel. When we are looking for the city centre on GoogleMaps, we are called in at a store with small agricultural work and vehicles and immediately get a sweet soup of fruit and nuts (and tea!). The owner invites us to stay overnight at his house in Merzifron. This time we decline the offer, with the Turkish sign with the hand on our hearts. The city of Samsun is still about 110 kilometers away from Merzifon. If we reach Havza (25 km further), we can get Samsun the next day. From Merzifon it will probably be to far. The owner is a bit disappointed but understands. Harry has mastered the Turkish way of greeting and saying goodbye and "knocks heads" as men do in Turkey with this hospitable man spontaneously.
In the center of Havza we ask around if there is a hotel near by. On the internet we only find Thermen hotels on the edge of the town. There appears to be one and we check in. A new record: 70 Tl or less than € 10 and later we eat delicious pides with ayran and water for only 23 Tl. In Turkey we have no trouble staying below our daily budget!
The next morning is very foggy. We dress thickly but after 10 minutes we cycle again in the radiant sun and quickly remove the warm clothes. We stop for lunch in the village of Kavak. An English speaking Turk asked us a bunch of questions about our trip until his bus arrives. We are then addressed in German by a Turkish restaurant owner. He says we need sugars and buys us a bottle of orange juice. A Turkish lady next to us on the bench also appears to speak German to and we chat a bit. When her bus appears she leaves on it, and we hear a warm dutch "goedemiddag". Edje (he prefers this name above his real Turkish name) came with his parents to the Netherlands at the age of 5. Now that the health of his parents is declining, he has decided to return with his parents to their birthplace. He talks about the world-famous wrestler, of which a large statue stands a little further on. His father had lessons from him and was also a meritorious wrestler himself. We take a picture with Edje and then drink another tea together.
Ed tells us that the Turkish government has invested enormously in the country. We have sees that in the infrastructure. Those D roads are all top quality and comparable to the Dutch motorways but for much less traffic. In many places, level-level crossings are converted into non-level crossings, tunnels are built and new roads are laid out. For a civil engineer, cycling through Turkey is a mecca. Edje's opinion is that the government is responsible for catching up from 50 years behind to 5 years compared to Western Europe society. A huge achievement where little is spoken and written about. His advice is to continue on the new D road to Samsun and not to take the old road that our cycling route planners propose. Previously, there were weekly deaths on this old road. The 2x3 lane road has a wide lane and we follow Edje's advice.
after another two more solid climbs, we descent for at least 25 kilometers and we finally reach the Black Sea coast. Our plan is to continue to follow that coastline to Georgia. In the big city of Samsun we set up the tent at the campsite near a swimming pool, beach volleyball court and water ski track that were built for the deaf olympiad in 2017. Everything is very new and the sanitary facilities are clean. There is a Czech cyclist standing next to us with a little tent, who is just packing up his stuff to leave. His Turkish friend provides us with delicious sweet sandwiches. There is another tent of two cyclist next to us that turn out to be from a French woman and Spanish guy. They are not there, but we will meet them the next morning. At dusk, an Australian couple arrives also by bike. Suddenly we meet many cyclists! Since Austria we have only met one long distance cyclist: Audi in Serbia.
We decide to stay an extra day. We clean our bikes, check all the screws and find out that Roelie's tire is flat. After fixing it we go to Decathlon. Harry needs new shoes. His sneakers no longer have any profile, and on the hikes we make, he regularly slides out and then makes the most beautiful antics. His zip-off pants have several fire holes after our campfire at Ilgaz Dag and has turned out to be too thin for cold evenings. We also buy thin gloves and a spare inner tube and. We are ready for the last piece of Turkey along the Black Sea coast!