In this second part of our blog about cycling vacations in the Canary Islands, we are back on Gran Canaria for a while. We traverse the northern part of the island and celebrate New Year's Eve on one ear. On New Year's Day we take the ferry to Tenerife and cycle around the whole island with of course a climb to His Majesty El Teide.


Day 11 back on Gran Canaria
It is December 30, 2021 and after 6 hours of sailing from Lanzarote we are back in Las Palmas de Gran Canaria. We have a nice hotel near the beach and walk to the first best restaurant on the boulevard to eat: and it becomes old-fashioned dining with several Italian courses. It is delicious! We are ready for the second round in the Canary Islands!
Distance: just over 5 kilometers and without significant altitude gain.
Accommodation: Hotel Doña Luisa, Las Palmas de Gran Canaria €103 incl. breakfast
Day 12 Gran Canaria: Las Palmas to Gáldar
The next morning we are up early because it is going to be a tough day to Gáldar where we made reservations. After all, there wasn't much to choose from for New Year's Eve so we have to make it.
The first 10 km we feel the oppressive population and building density of this capital and its suburbs. After that we see more and more green and that's striking after Fuerteventura and Lanzarote where almost everything is bare. The smell is also striking. We smell plants and flowers instead of the sea air of recent times.
We keep a long view of Las Palmas and its harbor while we slowly climb up to the highest point of Gran Canaria for us on this trip (at least that's what we think). After about 700 meters of climbing we drive through the town of Teror. An authentic town and therefore tourist highlight with narrow streets and houses with balconies. It looks like a collection of doll's houses but big.
In Teror - what's in a name - lurks disaster. Roelie's rear tire needs a few puffs every morning and Harry's diagnosis is that the valve is no longer good. Roelie thinks there is a very small hole in it and visualizes a thin cactus needle. This morning Harry screwed the valve shut extra tightly. Because it will be a tough stage on asphalt, Roelie wants an extra puff in Teror to make the rest of the day a little easier. By mistake she unscrews the valve and the tire is flat immediately. We use the spare tire we brought with us and with that the disaster is averted. Roelie checks the inside of the tire for a wafer-thin cactus needle, but later it turns out that Harry was right and that the valve is very slowly losing a tiny bit of air. It always remains difficult to prove Harry right, especially since he is (almost) always right.
Above Teror we keep that beautiful view on Las Palmas meanwhile and deep below us and on the scattered towns, villages and fincas (farms). Eventually we exchange the valley for a new one in which there is no village or finca. The new valley has steep slopes and everything is green. There is little traffic and we climb steadily higher and higher. The rakim (our often used Turkish word to indicate the highest point) of the day is at 1560 meters and offers a mirador with views of a volcanic crater and pretty much the entire northern coast of Gran Canaria with still a view of Las Palmas. Extraordinary: the city we left this morning is 40 kilometers behind us and more than 1500 meters below us. The mirador is the turning point and then the descent begins which, unfortunately, is not so beautiful. Moreover, the descent is interrupted three times by a steep climb that takes us 50 meters or more higher each time and makes the sour legs protest strongly.
From the green mountainside we have a view of the coastal area which, just like Las Palmas, seems to be completely built up. Not a view to be cheerful about. The old town of Gáldar is surrounded by ugliness, but the center (again, a 100 meter climb with a percentage of well over 20) is beautiful and worth a visit. Roelie can't manage it anymore and hikes the bicycle up the steep volcanic slope into town.
Our hotel is situated at the central square surrounded by old stately buildings and an old church. The approach street to this square is a veritable flower parade and party tents are everywhere where cheerful locals celebrate the year.

We asked if the restaurant was open, which it is, but then neglected to reserve a table. Fortunately, we are lucky and get the last table and may at 19 hours at the table and we are very happy because the stomach growls. The menu for the New Year's Eve dinner is chique Spanish and therefore a bit difficult for a balanced meal. With thanks to Google Translate we order. The food is, like in the better restaurant usual, presented in minimal portions and in an elegant way. In the end we ordered more than enough and we roll into bed at 22:00 and fall asleep immediately. During the night, Roelie still wakes up from chattering under the window or from fireworks in the alley, but Harry, normally a light sleeper, grunts the whole night through. Once before we cycled so much on New Year's Eve that our eyes closed before midnight and that was in Myanmar 2018/2019. Happy new year dear everyone!!!


Distance: 72 kilometers with 2377 altitude meters
Accommodation: hotel Agalder in Gálder for €134 including delicious breakfast
Day 13: Gran Canaria: Galder to Tenerife: Santa Cruz
The city is deserted when we leave in the morning. Harry is filming when, in the corner of her eye, Roelie spots a huge tree behind a door in a small courtyard. She squeezes the brakes and forgets that yesterday she had trouble getting out of the clicks. What she feared yesterday, but didn't happen, is happening now: she's swaying in front of the door with the tree but also in front of Harry with his phone at the ready. So it's on camera. Immediately afterwards the pedals are adjusted and loosened.
After 10 kilometers we arrive at the harbor Puerto de las Nieves for the boat to Tenerife. The office is closed and we buy tickets on the internet. We are far too early and decide to cycle to the quay to see if there is somewhere to get a cup of coffee on New Year's Day. On our way there, we meet a Dutch cyclist, Mehmet, who is also island-hopping and at the same time raising money for a mosque at a school for orphans in Tanzania. He tells us that he couldn't find a place to sleep yesterday and spent the New Year on a bench in a playground.
The restaurants in the small harbor are open. We choose the terrace whose propper offers a free parking spot for our bikes. "Other days €5 an hour," jokes the man. Actually, it's not a joke when you see the place. How beautiful is it here!? A salient detail is the remarkable number of far too fat women on the black pebble beach. We debate whether that's an advantage or a disadvantage on those pebbles and cobbles.
Back at the ferry we meet two more cyclists with luggage and again they are Dutch. Jos and Janet have temporarily (4 months!) exchanged their home for the saddle and the winter sun. The whole boat trip there is plenty of chatter (well, Harry was napping). What a nice couple and how wonderful to meet them again later in the afternoon and to have a drink together and then eat pizza. With thousands of stories, laughter and sociability and with a glass of wine (and a few too many) we finally say goodbye to these beautiful people with a warm (and definitely not Corona-proof) hug.
Distance: 14 kilometers with 170 altimeters Accommodation: Hotel Principe Paz for €93 including breakfast
Day 14 Tenerife: Santa Cruz de Tenerife - La Esperanza
The grand goal on Tenerife is the ascent of El Teide. At least, as high as you can get by bike and that is about 2250 meters. We don't think it's a good idea to do this in one go from sea level. It would take us a whole day and then we would have to go down in search of a place to stay the night. On the internet we find a hotel at almost 1000 meters, but in terms of distance still very close to the capital Santa Cruz. So we make a nice detour with a lot of altitude gain, again more than 2000 meters. From the city we first cycle eastwards on a bicycle path along the coast and the harbor. It is Sunday and there are many cyclists on the road. After about 10 km we turn off in the direction of the rough ridges on this eastern part of Tenerife. What follows is a spectacular climb.
The first and longest part of the climb is amazing with beautiful views that are different every time thanks to the many hairpin bends. From the passing cars, but also from descending or overtaking cyclists, we are regularly encouraged, "Animo!" Apparently it is quite unique to do this climb with packed bikes. We keep a long view of the spot from which we left the coast; it remains very special to visibly gain a lot of height by bike in this way. It feels like a reward for hard work. At the top we end up on a ridge with alternating (and sometimes simultaneous) views of the south and north coast of the island. Magnificent!
We stay on this ridge but descend slightly to 700 meters to then undertake a somewhat less scenic climb to today's second peak. Beyond the summit, a magnificent view awaits to the west of His Majesty the volcano El Teide with, at its foot, Santa Cruz, San Cristobal de La Laguna, among others. In between (from 1000 to 2000 meters) its flanks are forested, above it is bare and steep until its pointed crown at 3718 meters. Just below the edge of the forest we can see La Esperanza, our goal for today. For this we have to descend quite a bit, to La Laguna at about 540 meters, and then climb again to our hotel at 960 meters. In La Laguna we score water, ice tea, sports drink (yes it was hot and a lot of sweating) and two sandwiches with fillings. When everything is finished and Harry is back on his bike, Roelie calls out that she has lost a lens. Harry first searches her eye socket and ball and then parks his bike to investigate the sidewalk when Roelie suddenly sees clearly again and we can finally start the (in Harry's eyes unnecessarily delayed) last climb of the day.
Komoot, our navigation and route app with which we now have a love-hate relationship, doesn't want us on the provincial road TF-24. Main roads Komoot always tries to avoid, even if that main road is not busy and there are no acceptable alternatives. Better a goat path with a gradient of >25% than on the main road, is Komoot's reasoning. We always try to get those geeky things out beforehand but there is something seriously wrong with the app and the adjustments are not always saved. Komoot sends us in the direction of a wall to cycle on which we refuse and turn off to the TF-24 where we are confronted with a steep gradient and where there is indeed a lot of traffic. With a wide and, later on, unnecessary detour we arrive at the bar next to our hotel, which closes at 5 p.m., so that we still have half an hour to enjoy a well-deserved and ice-cold cerveza.
It is Sunday and most restaurants in the immediate area are closed, but fortunately we find one that is open and has a simple menu. We notice that it is considerably colder in the evening at this altitude and wonder what it is like up there, where we will climb tomorrow.
Distance: 55 kilometers with 2035 altitude meters Accommodation: hotel Las Cañadas for €52
Day 15 Tenerife: La Esperanza - La Orotava
Today is the day, the day of El Teide, also the day to recognize what we have cycled so many times virtually: Corona Forestal, our most chosen spinning class by Evert van der Zee of Club Virtual / Cycle Masters. We can sing along with the songs and talk along with Evert, so many times that lesson has been played without knowing that we would ever do the same route ourselves. In the spinning class, the route is done by car and we are at the top in 45 minutes. In real life we have to climb 30 km and we have never done that and at times it is quite steep.
We have to wait until 9:00 when the supermarket next door opens and we can buy breakfast. At 9:30 we click the pedals and the ride starts. What we don't see on the screen is that the climb through the forest curls over the mountain ridge and that there are many viewpoints on both sides: on the right on the neighboring island of La Palma: on the left on neighboring Gran Canaria and in front of us El Teide. it's heartily clear and quite warm today. There is hardly any traffic and only an occasional cyclist. After a few steady miles we get our sweaters and long sleeves because despite the bright sunshine it is still quite chilly in the shade and at altitude.
After 25 kilometers and at about 2000 m altitude we reach the tree line and leave the forest and climb another 5 kilometers to the highest point of 2240 m near the Observatory. At 2230 m we have grabbed a selfie moment and so we cycle past the rakim of the day at 2240 m. The last 5 km is one long mirador. It is just after 2 p.m. and once at the top we put on many more clothes and gloves and the well-deserved descent can begin. Because we want, besides this visit to El Teide, to cycle a complete round of Tenerife, we descend on the north side of the volcano. The descent is long and beautiful and despite the extra layers of clothes and gloves we get freezing.

At about 1000 meters height also on this side of the volcano the buildings begin with soon a cozy looking terrace of which however every table is occupied by apparently hikers. Then we just continue to descend to 400 meters, to our destination of today: the center of the old town of La Orotava. There we find a place in the sun to warm up again and to smile with pride that we did it: the climb is over and for the rakim of the total tour an imaginary check mark is made.
Due to family circumstances of the cook of our hotel, the restaurant is closed and we get a tip from the receptionist to eat the feast elsewhere in the evening in the very cosy and authentic looking town. It seems that besides the locals there are at most fanatical hikers (and two proud cyclists). Once again we have some trouble with the Spanish menu of the restaurant Tapias, which is not a tapas joint but looks like one, but it works out fine.
Distance: 64 kilometers with 1553 altimeters Accommodation: hotel Rural Victoria for €77 including breakfast
Day 16 Tenerife: La Orotava to La Vega
After those two days of climbing we allow ourselves some rest. We see a cute little cottage in Las Vegas, oh no singular: La Vega and book it for two nights. This was also a must because the accommodations we can book for one night were not on our route. It's not far, but we do have to cross a ridge and the elevation profile shows an alarmingly steep final climb. We stay somewhat at altitude and thus far from the touristy coastal area.
Soon Harry accidentally puts tension on his chain. The chain on the largest front and rear sprocket just fits and taking it off is impossible. We loosen the rear wheel and that gives us some space to put the chain on the other sprockets. The problem is solved.
In the last 5 km we indeed have to climb steeply and the last hundred meters we have to push the bike, the road to the cottage is so steep. Moreover, La Vega, contrary to its plural, has virtually no facilities. There is no bar or restaurant and the mini-market is only open to a limited extent. The store is indeed mini, at most 20 m2, but houses a wide range for basic needs, so we manage.
Hostess Karin is a warm and welcoming German lady and lives with her husband Frank and two dogs on the same plot where the cottage is located. She warns us that the dogs are quite focused on food and that becomes immediately clear when we see their noses pressed against our bags with food. On the patio of our vacation home we rest from today's steep finish and while we do so a black cat (hopefully he won't bring us bad luck) unabashedly takes a shit in a flowerpot next to our terrace. How impertinent.
Distance: 35 kilometers with 1108 altimeters Accommodation: Casa Madera in La Vega for €56
Day 17 Tenerife: rest day in La Vega
The sun is supposed to be on the patio in the morning but it is cloudy and chilly on our rest day. We finish the first part of the blog, put it up on our website and spend the day hanging out in the cozy cottage in La Vega.
Because of yesterday's detour to northern Tenerife and the rest day it is a little less obvious to also go to the island of La Gomera. The idea arises to see more of Gran Canaria and maybe add a few extra days on the beach in the south before returning to cold and wet Holland and work again.
Accommodation: Casa Madera in La Vega for €56
Day 18 Tenerife: La Vega to Playa de las Americas / Los Cristianos
Egg, egg, egg, oh how happy we are, it's Harry's birthday! We have to celebrate and we'll do so with ... Cycling around Tenerife. Unfortunately the supermarket is closed because of Epiphany (or Harry's birthday) and there is no fresh bread to buy. Karin, our hostess, tells us that on Epiphany everything is closed on the islands. Fortunately she helps us out and digs up rye bread from her freezer. An egg, a cup of coffee and a glass of juice and we are good to go. That is necessary to get to the tourist area in the south where everything will be open again. Oh yes, and between La Vega and Playa de las Americas, where all the tourists congregate, there is a steep climb.
On the way back from the closed store we notice a clear blue sky above our heads but a thick blanket of dark clouds hangs over the sea. When we say goodbye to Karin, she says that it will come ashore and accumulate against the mountains. She has been living on Tenerife for years and she knows.
Dressed in T-shirt and cycling shorts and with sunglasses on our noses we start the gigantic steep climb, the average is over 15%. The higher we climb, the colder it gets and the clouds indeed catch up with us, lowering the temperature by at least 10 degrees. On our foreheads it still leaks, but otherwise we get too cold and we put on a long-sleeved sweater and cycling jackets. We go up super slowly at an ultra-slow pace, cycling into the fog and arriving in a mysterious almost magical 'lord of the rings' land. At an altitude of 1100 meters, the climb is over and now and then we can see through the cloud cover and we can see the west coast in the sun.
We descend to the mountain village of Santiago el Teide where the sun is shining again and where we see many hikers. Behind the village there is a good tarmac road with many hairpin bends which at first meanders nicely between rocks and cacti but then not so nicely between the banana plantations with their ugly, dusty nets and messy fincas. Unfortunately, we keep that image throughout the west coast. The area has no urban character whatsoever until arriving at the tourist Walhalla, Costa Adeja, a -in our view- also hideous area with large-scale separate and showy resorts. Slightly more characterful is the original heart of Costa Adeje, Playa de los Cristianos, with narrow streets and restaurants (including a good Indian restaurant).
Distance: 60 km and 962 altimeters Accommodation: aparthotel Udalla Park for € 87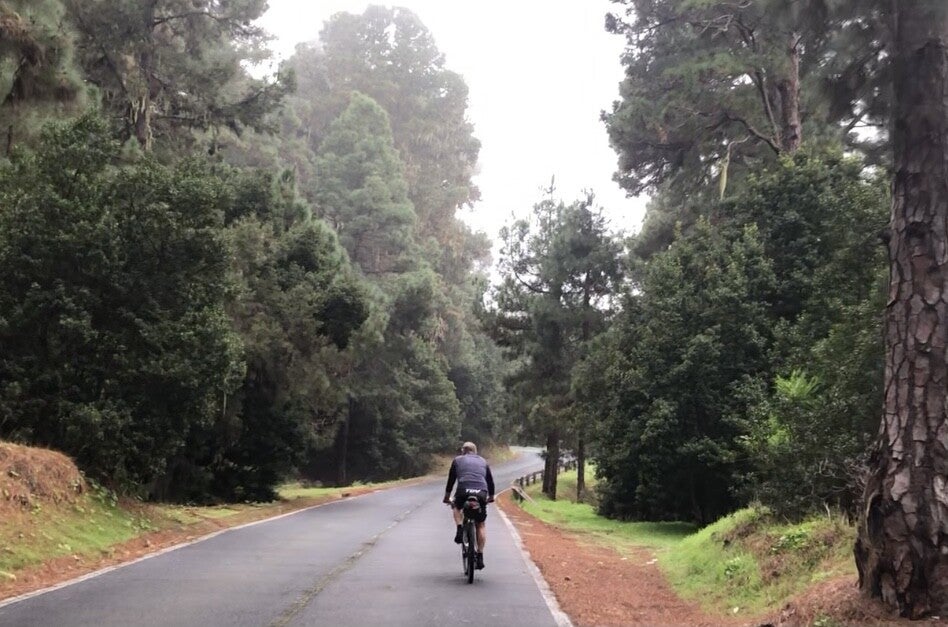 Day 19 Tenerife: Playa de las Cristianos to Arico el Nuevo
We are looking forward to it! On the advice of the receptionist we don't use the (optional) breakfast of the hotel, but at a cozy little place in the street. Today (and tomorrow) the old road is on our program. The old road is called the Carretera Vieja and it is the TF-28 that runs between Costa Adeje and Santa Cruz de Tenerife.
It takes a while to leave the tourist zone and we end up on some wide busy roads and unfortunately that is not over when we cycle onto the TF28. After the first climb we stop at a gas station for an icetea and the pump attendant asks if we are going to do El Teide. No, not again!!!

We and many other cyclists climb on to viewpoint La Centinela. Once there, we make the mistake of saying out loud that there is hardly any wind while a strong headwind was predicted. The unwritten rule is to NEVER make such statements because you are asking the gods. Never say, for example, that you haven't had a flat tire in a long time or that it still isn't raining, chances are it will go wrong. And yes. We are less than 5 minutes down the road and almost get blown off the road.

Because later the TF-1 highway was built along the south coast, this old road is hardly used as a through-road anymore. Known locally as the road with a thousand bends, the old road is 100 km long. It is built along the mountains and follows the barrancos, the gorges/ravines in the volcanic area. Each barranco delivers the same program: you cycle past a ridge and get the strong east wind full in your face. Then you take a sharp turn and descend into the barranco. At the end there is a narrow stone bridge built across the gorge after which you can climb on the other side against the flank (and out of the wind). The road is a joy to cycle, with all kinds of twists and turns. The views along the ride are simply dazzling. It is a continuous carousel of climbs and descents and so winding that all cyclists (and unfortunately, motorcyclists) enjoy it to the fullest.

It is quite difficult to find accommodation in the middle of the interior of Tenerife and also on the TF28. There are some but they are often vacation homes for many nights. We see something nice halfway the route in Arico el Nuevo for €60 a night but the owner only rents from five nights. When we ask what price one night would be and declare to pay extra if necessary, he asks for €40 extra cleaning costs and to pay cash. Potjandorie, but it is worth it to us not to have to descend 500 meters to the coast and climb back the day after.
We're extra happy with the overnight spot when we get there. Alrico el Nuevo turns out to be a cozy narrow and decorated street over a mountain ridge and the cottage turns out to be an authentic house with the very best bed. As far as the place hadn't done it already we offset the cost with an extremely cheap pizza at the Arico Viego with separate pizza windows. Harry eats a Valentino Rossi and Roelie eats a Canaria.
Distance: 45 kilometers and 926 altimeters
Accommodation: Rural Hotel house El Sitio de la Casa for €60 + €40 cleaning costs
Day 20 Tenerife: Arico el Nuevo to Gran Canaria: Agaete
After we leave, the host goes to the village in his old Mercedes for coffee. We meet there again and while he drinks his coffee, and we eat breakfast, we get into a conversation. When Harry says that he thinks he looks like cyclist Pedro Delgado, he goes wild (in a positive way). He has also been an avid cyclist, has raced against Pedro Delgado (and lost) and recently Óscar Freire and Iván Gutiérrez were his guests. He has traveled extensively, including cycling in Thailand, and wants to know everything about our world cycling trip. We chat a lot and the €40 extra cleaning costs are partly used by "Pedro" to treat us to coffee.
After a nice breakfast we continue the rest of the 1000 curves of the TF28 on which we now count 1000 cyclists. A wonderful road that is very understandably a favorite with cyclists. There seems to be no end to the curves and the climbing and descending from one barranco to the next until, as a surprise, after the climb we suddenly descend steeply along a mountain slope. This turned out to be the mirador de Don Martin and while we are still shouting 'wow' and 'cool' we are being passed by cyclists with a deadwish. Within one kilometer we are cycling 150 meters down.
All good things come to an end, descents often faster than climbs, and the peace and quiet on the TF28 also ends when we end up in the bustle of the town of Güímar at the bottom of the mountain slope. Fortunately, after this town the road becomes quiet again and one last climb remains before we finish our tour and are back in Santa Cruz. On a bench in the harbor we wait for the 4 p.m. ferry and enjoy the lee of the ferry out of the wind and in the sun.
Yes, the strong wind of yesterday and this morning has decreased but not disappeared and that means that there are still fairly high waves in the so far always calm ocean. During the entire trip from Tenerife, Gran Canaria is not visible. The staff walks around to collect any barf bags. We have a good spot at the front of the ferry and fortunately do not suffer from seasickness.
The high waves are especially crazy at the boulevard of the port of arrival Puerto de las Nieves. We stare at the violence of nature with high waves piling up and skipping on top of each other for a while before we have dinner in the harbor. Of course we see nothing of Tenerife except the very tip of El Teide. During dinner there is a light show in a water mist with text and music, which however is drowned out by the group of locals at the table next to us. With ringing ears and full bellies we fall asleep that night.
Distance: 62 kilometers and 1056 altimeters
Accommodation: hotel Puerto de las Nieves for €90 incl. breakfast